Gangtok Darjeeling Tour From NJP/Bagdogra
Day -01- Bagdogra Airport/ Njp To Gangtok (125km / 4hr)
Assistance at Bagdogra Airport /NJP on arrival and drive to Gangtok (Capital of Sikkim). Gangtok is also a resting ground for people traveling to North Sikkim. Gangtok, the capital city of Sikkim is located on a ridge at a height of 5500 feet. With a spectacular view of the Khangchendzonga,The town provides the perfect base for travel through the state . It is Surrounded by Monasteries and Orchids, Gangtok is truly a traveler's delight. Check in at the Hotel. Evening is free at leisure. Overnight stay will be at Gangtok.
Day - 02- Gangtok To Ts0mgo Lake ,Baba Mandir& Nathula : Nathulapass(Optional/Additional Cost) : Closed On Monday & Tuesday
Nathula Pass was a major corridor of passage between India and Tibet before it was closed in 1962. Located around 56 kms from Gangtok at an altitude of 14450 ft, the road to Nathula passes through the Tsomgolake. It is one of the highest motorable roads in the world and is richly surrounded by alpine flora. On a clear day you can even see the road winding down the Chumbi valley. Tourists are allowed to go close to the international border from where you can see Chinese soldiers on the other side of the barbed wire.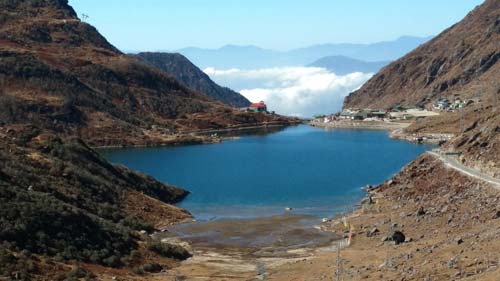 Additional tour : If you are do not get the Permit for Nathula Pass Then you can also do this tour
Morning after breakfast we will go for a full day excursion to -
Tsomgo Lake : Tsomgo Lake 38 km from Gangtok and at an altitude of 12,400 ft, the ethereally beautiful Tsomgo lake is a must on every visitors itinerary. A winding road through rugged mountain terrain and sharp cliffs takes you to Tsomgo, which means source of the water in Bhutia language. The lake derives its water from the melting snows of the mountains surrounding the lake.
New Baba Mandir : BabaMandir is a distinguished sightseeing place of Sikkim. This "mandir" or shrine is dedicated to "Baba" Harbhajan Singh, who was a soldier of the Indian Army. However, for the tourists' convenience, the samadhi of Baba Harbhajan Singh has been reconstructed at the junction of KupupGnathang road and the trail leading to Menmecho Lake, on November 11, 1982. And this shrine is popularly recognized by tourists as New Baba Mandir.Overnight stay at Gangtok.
Day -03- Gangtok To Darjeeling Transfer (105 Km /4 Hr)
After breakfast drive to Darjeeling, land of unspoiled natural beauty with alpine landscapes, thick luxuriant forests, rivers in torrential and peaceful lakes. On arrival, check into a hotel. For the rest of the day you are free to explore the local area. Overnight stay at Darjeeling.
Day- 04-Darjeeling Full Day Sightseeing/City Tour
Tiger Hill : Early morning drive to Tigerhill,Situated at an altitude of 2590 metres (8482 ft.) and 13 kms from the town, this spot has earned international fame for the magnificent view of the sunrise over "Kanchenjunga" and the great Eastern Himalayan Mountains.
BatasiaLoop : About 5 kms from Darjeeling, this Railway Loop is a marvellous feat of engineering. It is fascinating to watch the toy train wind its way round the loop. A glorious view of snowy peak and town can be seen from this place.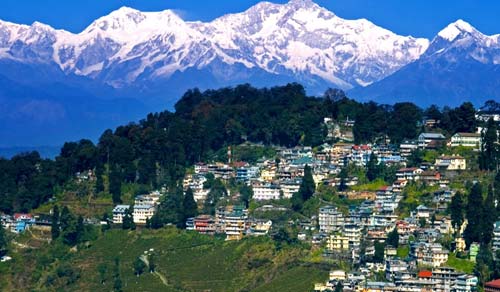 Ghoom Monastery : Ghoom is located 8 km from Darjeeling. The original monastery was built during the early twentieth century.The monastery can accommodate around sixty monks. The statue of Maithreya Buddha which is 4.57 meter high, of this monastery is of interest here.
Padmaja Naidu Himalayan Zoological Park : Adjacent to the Himalayan Mountaineering Institute, it is a high altitude wildlife park and new home for Siberian Tiger, Himalayan Black Bear, Deer, Red Panda, Snow Leopard and Birds.
Tibetan Refugee Self Help Centre : This centre produces excellent carpets, woollen goods, wood work, leather work etc. The Tibetan craftsmen can be seen at work at the centre. It is closed on Sundays.
Tenzing and GombuRock : Tenzing Rock, a gigantic natural rock in Darjeeling is named after Tenzing Norgay, the man who created history by climbing the Everest first time along with Edmund Hillary in 1953. Opposite to this is the Gombu Rock named after Nawang Gombu, nephew of Tenzing who was the first person to climb the Everest twice, once in 1963 and in 65.
Tea Garden : A jeep takes you to the nearby tea garden in Darjeeling hills for you to soak in the nature. Later you take a walk through the villages and nature trails, and get deeper insight into the lives of the people living in the mountains.
Observatory Hill : Apart from the magnificent view it commands, great religious importance is attached to the Observatory Hill by both Hindus and Buddhists who worship here by the hundreds. Overnight stay at Darjeeling.
Day- 05-Departure To Njp/Bagdogra Airport
Later we will drive to Airport/NJP Rly station from Darjeeling with a cute smile on your face remembering all the sweet moments spent here.
Documents Required :
• 4 Passport size photo of each guest
• 2 copies of Photo ID (passport/drivers license/voter card )
• (Addhar Card & PAN card NOT accepted)
• Original Photo ID for all guests
Important Notes:
• Above price is for Indian Nationals only.
• Above price is valid for a period of 15 days after being quoted
• The Tariff quoted is net and non-commissionable
• Hotel in Gangtok should be within 2km, or else will be chargeable.
• The vehicle will be provided on point to point basis and not on disposable basis.
• If you Choose Normal Vehicle Gangtok Sight Seeing will be done by non AC Maruti Van / Wagon-R or Similar Car non ac cars as per local restrictions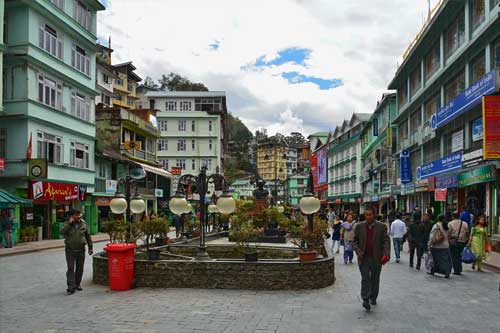 Cancellation Rules:
* 20% cancellation charge for cancelling more than 15 days in advance.
* 30% cancellation charge if cancelled between 15 to 8 days before arrival
* 50% cancellation charge if cancelled between 7 to 4 days before arrival
* 75% cancellation charge if cancelled between 3 to 1 days before arrival
* No refund is possible if cancelled on the day of arrival or later
1. Cancellation charge is applicable on the total package cost.
2. No refund is possible if the tour is cancelled due to bad weather, civil/political disturbance, or anything beyond human control. But there will be full cooperation from the entire team to make an alternate arrangement in such
3. In case your tour booking involves any government accommodation or services, such as tourism department lodges etc. The Cancellation policy will applicable on the package amount excluding government booking. For government booking, the cancellation rules of the concerned authoritywill be applicable.
4. In case of very high season or special situations, we may communicate a different cancellation rule to you. If our team members communicated a cancellation rule different from the one mentioned above, then the above rule will not be applicable. Rather the rules communicated by our sales team member will take precedence.