Gangtok Sikkim Pelling Tour From NJP/Bagdogra
Day - 01- Bagdogra Airport/ Njp To Gangtok (125km / 4hr)
Assistance at Bagdogra Airport /NJP on arrival and drive to Gangtok (Capital of Sikkim). Gangtok is also a resting ground for people traveling to North Sikkim. Gangtok, the capital city of Sikkim is located on a ridge at a height of 5500 feet. With a spectacular view of the Kanchenjunga,The town provides the perfect base for travel through the state . It is Surrounded by Monasteries and Orchids, Gangtok is truly a traveler's delight. Check in at the Hotel. Evening is free at leisure. Overnight stay will be at Gangtok.
Day - 02- Gangtok To Lachen (125km /6hr).
Today we will drive to Lachen, At an altitude of 8500 ftLachen is alluring in its simplicity. Not yet as big a tourist destination as Lachung, it retains a freshness which is very appealing.
Enroute we will visit – Seven sister water falls, Rang Rang Falls, bhimNala falls, nagafalls,mangansinghik view point ,chungthang, and Lachen .
On arrival check in at hotel.Afternoon stroll around the campus or village.Overnight stay.
Day -03- Lachen Sightseeing And Drive To Lachung.
After early breakfast or packed breakfast visit to -
Gurudongmar Lake : Further proceed to Gurudongmar lake, Situated at a height of 17,800feet, it is considered one the most sacred lakes by the Buddhists and Hindus alike. The beautiful and awe inspiring lake (190 kms from Gangtok) remains milky in colour throughout the year.
Lachen To Lachung 50km In 2.5hrs : Post lunch will drive to Lachung, a picturesque mountain village, at a height of 8610 ft, embraced by snow capped mountain peaks, breath-taking waterfalls, sparkling streams and apple orchards is the perfect holiday destination. On arrival check in at hotel.Afternoonfree.Overnight stay.
Day- 04- Lachung Sightseeing & Gangtok Drop.
Yumthang (Valley Of Flowers): Early morning drive to Yumthang, situated at a height of 11800 feet is popularly known as 'Valley of Flowers', Located at a distance of 148 kms from Gangtok, it is a paradise for nature lovers with a fascinating blend of flora and fauna and breathtaking scenic beauty. In spring season, wild flowers such as primulas and Rhododendrons bathe the landscape in rich colours, making it a tourist hot spot. The Shingba Rhododendron Sanctuary over here has 24 species of Rhododendron flowers which bloom from April to May end and it also offers lovely views of the mountain peaks such as Pauhunri and ShunduTsenpa forming the backdrop of the river Teesta.
Hot Spring : Before entering the Yumthang Valley, a pedestrian pathway goes over a small bridge and reaches Yumthang Hot Spring. You will need to walk for few thousand yards to reach the hot spring. In such a cold climate, this surprisingly natural warm water comes as a pleasant surprise. The water is rich with sulfur and said to have good healing and medicinal value. The spring water here is directed to a hut and couple of pools inside so that one can take a healing bath here.
Yumesamdong /Zero (With additional cost) : Situated further up at a distance of 16 kms, at an altitude of about 16,000 feet is Yumesamdong. The rugged vegetation- free mountains, especially in the months of November-December and February¬March over here present a breathtaking scenario. Drive back to Gangtok.
Mount Katao (With additional cost) : Nestled in the northern part of Sikkim, at a distance of 144 km from Gangtok and 28 km from Lachung, Mt Katao is one of the most stunning sights imaginable. Perfect for adventure lovers who like skiing, snow tubing, snowboarding, and grinding during the winter season, the surreal mountain provides a splendid view to its onlookers. However, to enter this area, a permit is required from the army since the place where Mt Katao is located at a military base. Covered with natural vegetation including poppy, rhododendron, and primula, the base ground of Mount Katao comprises of numerous adventure sports activities. This amazing place is situated at an elevation of 15000 feet and remains covered in snow almost throughout the year. There is a zero point situated nearby which provides some spectacular views.
Thangu Vally (With additional cost) : is 1710feet above the sea level. It comes under the category of world's one of the 15 highest lakes and will bewitch you with its scenic and splendid beauty. Its breathtaking charm is what drives tourists here from across the Globe. People believe that this lake's water has healing power and that is why many tourists carry it on their way back home.
Kala Patthar (With additional cost) : Kala Pattha is a notable landmark located on the south ridge of Pumori in the Nepali Himalayas above Gorakshep. Although not a proper mountain, with a prominence of only 10 m (33 ft),[1] the ascent of Kala Patthar is very popular with trekkers in the region of Mount Everest since it provides the most accessible closeup view of Everest. Due to the structure of the Everest Massif, its high summit is blocked by Nuptse from much of the surrounding region.
Day -05- Gangtok Full Day Sightseeing /City Tour
Namgyal Research Institute of Tibetology : Namgyal Research Institute of Tibetology is the most prestigious research institute of its kind in the world; NIT is a treasure of vast collection of rare Lepcha, Tibetan and Sanskrit manuscripts, statues and rare Thankas (colourful tapestries used in Buddhist liturgy).
Government Institute of Cottage Industry : Set up in 1957 as a centre for both preservation and development of the traditional arts and crafts of Sikkim, An emporium at the institute sells an array of local traditional items, which are very popular with tourists.
Do-DrulChortenStupa : This huge stupa or monument is located at a short walking distance from the Research Institute of Tibetology and on a hillock. The ChortenStupa is marked by a golden top dome. This golden top can be seen from various places in Gangtok.
Orchid Flower Show : The "Flower Exhibition show" an enclosed climate controlled flower garden, a World of unbelievable Orchids.The orchids looked artificial, akin to the cheap crepe imitations in shops, too beautiful to be true and genuine.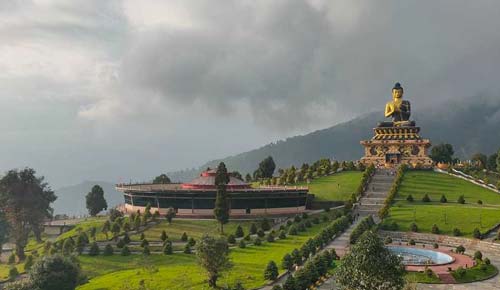 Tashi view Point : From this point one gets a breath taking view of Mt. Khangchendzonga, one of the most graceful peaks in the world. An Observatory Tower, Cafeteria and Public amenities have also been recently added.
Ganesh Tok : It is situated on a ridge at a distance of 7 km from Gangtok. From this Spot one can get birds eye view of sprawling Gangtok town, while across the hills Mt. Khang-chen-Dzonga and Mt. Siniolchu loom over the horizon.
Bakthang Waterfall Gangtok : This is a wonderful waterfall located on the North Sikkim Highway towards Tashi View Point and about 3kms from Gangtok town. While visiting Tashi View point or returning, it's worth stopping at this roadside waterfall for sometime
Ropeway/Cable Car : Great ride to view the whole of Gangtok , the Valley and peaks from far above .
Gonjan Monastery : Its located on a hilltop , it's one of the Oldest monasteries around.
Banjhakri Waterfall : Ban Jhakri means 'Jungle Priest' or in some definition 'Jungle Magician'. The Nepali folklore says that the first Jhakri or Shaman acquired the power of mastering the evil spirits from the gods.Overnight stay at Gangtok.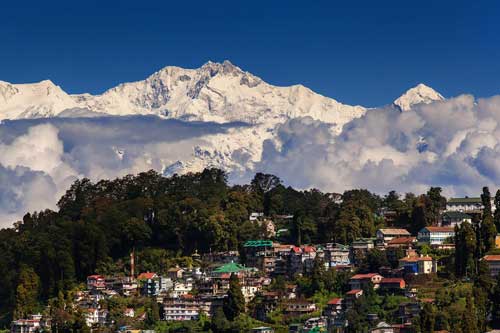 Documents Required :
• 4 Passport size photo of each guest
• 2 copies of Photo ID (passport/drivers license/voter card )
• (Addhar Card & PAN card NOT accepted)
• Original Photo ID for all guests
Important Notes:
• Above price is for Indian Nationals only.
• Above price is valid for a period of 15 days after being quoted
• The Tariff quoted is net and non-commissionable
• Hotel in Gangtok should be within 2km, or else will be chargeable.
• The vehicle will be provided on point to point basis and not on disposable basis.
• If you Choose Normal Vehicle Gangtok Sight Seeing will be done by non AC Maruti Van / Wagon-R or Similar Car non ac cars as per local restrictions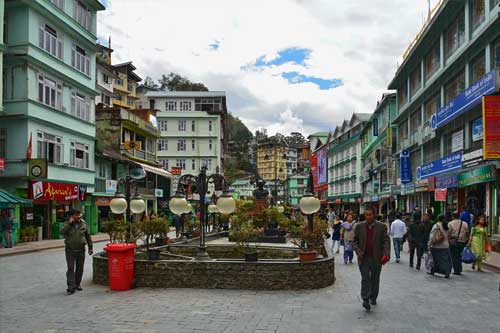 Cancellation Rules:
* 20% cancellation charge for cancelling more than 15 days in advance.
* 30% cancellation charge if cancelled between 15 to 8 days before arrival
* 50% cancellation charge if cancelled between 7 to 4 days before arrival
* 75% cancellation charge if cancelled between 3 to 1 days before arrival
* No refund is possible if cancelled on the day of arrival or later
1. Cancellation charge is applicable on the total package cost.
2. No refund is possible if the tour is cancelled due to bad weather, civil/political disturbance, or anything beyond human control. But there will be full cooperation from the entire team to make an alternate arrangement in such
3. In case your tour booking involves any government accommodation or services, such as tourism department lodges etc. The Cancellation policy will applicable on the package amount excluding government booking. For government booking, the cancellation rules of the concerned authoritywill be applicable.
4. In case of very high season or special situations, we may communicate a different cancellation rule to you. If our team members communicated a cancellation rule different from the one mentioned above, then the above rule will not be applicable. Rather the rules communicated by our sales team member will take precedence.